In Hamilton, every time I ask about a certain destination, the person describing it pauses. Eyebrows knit. A word is contemplated, and it's always this word:
"Sketchy."
Jackson Square
is sketchy. The people at that bar are kind of sketchy. East Hamilton is a sketchy place.
Sketchy people, sketchy places, sketchy buildings ... Hamilton is like an unfinished drawing.
-
Ian Mendes gives
3 helpful ways to annoy Leaf fans
, but there's one more you can use.
To the optimistic Leafs fan, the type who thinks every year is the year, say,
"Do you think it's your year? Huh? Your year to win? Win the Stanley Cup? Make it into the playoffs? Win 16 games? Huh? Win? Win a championship? Win your first in 41 years? Huh? Have your players play really well? Toskala succeeds, Sundin stays healthy? The defense come together? Everyone trusts Paul Maurice? Huh? The rookies succeed? Huh? The offense becomes lethal? Huh? Score a lot of goals? Pitch a lot of shutouts? Make Toronto proud? Save JFJ's job? Huh? Your year to do all that, huh? Set some goals? Achieve them? Your year to win? ...
[dramatic pause]
.. It's not."
The longer you continue the string of questioning, the more successful this becomes. I find that inevitably, they start laughing.
Weekly Review - Major Storylines
Gerber vs. Emery (vs. Elliot)
Martin Gerber's solid performances has bumped his rating from "play well so we can trade you" to "hey wait maybe he's better than the other guy." With a fantastic 40 second stretch in Saturday night's game vs the Rangers and 5 wins, Gerber finally looks like the goalie we wanted to sign. Maybe the square dancing propelled his confidence, maybe it boosted his coordination. Either way.
Contrast this with Gerber's failures last season -- sure, we didn't want him to start anymore, but it was a painful realization, not a giddy complaint. All the criticisms of Gerber were marked by panic for the team. Gerber just seemed, well, pathetic.
But no longer!
Emery's wrist injury will keep him out for a little while longer, and he should view Gerber as a threat to his no. 1 position. Emery may have carried us far into the playoffs, but he was nothing exceptional. Having a tandem of strong goalies works, as the past few Stanley Cup winners have shown us, it just hurts a little when you're spending $8 million on them.
Trends
The Senators haven't blown anybody out yet, but it's been a steady pace. The essence of our chemistry remains and the early trends suggest that this is a mature team that knows itself well, knows the goals well, and damn well looks ready for anything. And now, we wait?
The only concern that carries over from last season is the lack of reliable secondary scoring. Although Mike Fisher was awarded with a very generous $4.2 mil/season contract, it's not going to make him score more. Making plays and scoring is something that God either lets you or declines you to do.
Short of praying that Peter Forsberg finds himself inexplicably attracted to Ottawa for some reason, there aren't many options out there for the Senators. This secondary scoring thing has been a perennial problem since Havlat's departure, and even for
a while with Havlat
. But this is the first season where we have realized the first-hand consequences of not having that fear-inducing second-line center ....
Scott Niedermayer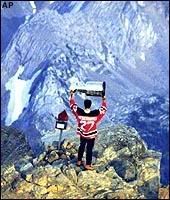 Then again, Scott Niedermayer has been "suspended", and it took him, Chris Pronger, and Pahlsson to neutralize our Big Line. At this point, it would be incredibly awkward for Scott Niedermayer to return. I mean, think of his team as his lover. The renewal of his contract is like an engagement proposal. If Niedermayer needs to think this long about being with the Anaheim Ducks, he's clearly ambivalent. The Anaheim Ducks deserve better than that. Take some time off, adopt a Malawian orphan, go back to school ... solve your mid-life crisis ... you've done all you can here, Scotty.
But in a way, this indecision makes me like Niedermayer even more. He has never been a stereotypical hockey player, with his scholarly glasses and quietly rebellious emoish haircut. I don't think he goes out to the bars every night and hits on the prettiest blondes. I've always felt that he had a deep appreciation of the game that few people realize. But there is nothing left for him to prove or challenge; without the context of winning or losing meaning something, it's just a job. And Niedermayer, who drives a Toyota Prius, doesn't seem to care about the money. I like his uncertainty because it means that he exists outside of hockey.
*
Also,
hi PatrickEaves
.
Labels: hamilton, martin gerber, mike fisher, scott niedermayer, toronto maple leafs