OTTAWA 4 at TORONTO 3 (OT)
(By now I'm sure you've already seen the game. I couldn't get to a computer for two days, and look, this is already out of date.)
Game 1
By extraordinary circumstances, I watched the season opener with a room full of girls.
Leaf fan girls
. I've never watched games with girls, and it's not like the atmosphere is any looser, but guys just don't make comments like, "I want to marry Sidney Crosby." (They just think it.) I stared at his bland smile, his non-offensive mannerisms, and tell her, "You would have to shove that boy full of drugs to make him interesting."
When the game starts, my mind is heavy with thoughts of Anaheim. I have no doubt that's what the boys are thinking about, or Redden, at the very least. The game seems harder than it really is, because all I can remember is failure. Anaheim has made a deeper impression on this team than any commentator will care to acknowledge.
The Leafs are much more potent than I remember. Forgive me on this, but it's been a while since the Leafs have played. I hear a lot about them. I hear the Fan 590 grumble at Paul Maurice's enigmatic starting goalie announcements, I hear the AM 640 seriously dissect and analyze the Leafs' precarious chances. But after a long postseason that seems to last a year, the actual Leafs team seems so foreign -- after all, during the most important 3 months of my life as a hockey fan, they were probably eating in Yorkville bistros and vacationing in the South Tropics or something.
Dany Heatley's 6 year, $45 mil contract extension is an auspicious way to start the season. Dany cares, so much more than I expected. He never chose to be here. It was by some unfortunate circumstances that he had to trade stifling Atlanta for a cold Ottawa. Much of attitude and happiness is determined by culture and environment, and I wouldn't have blamed Dany if he really wanted to leave after his contract was over. But he seems so settled now, one of the only players to play every game, an astonishing accomplishment for a player of his caliber. He laughs and sings with Spezza, he does nothing until he scores and he's going to be here for 6 more years.
There is an odd goaltending parallel with last season, namely Gerber's start. This season, we have already accepted that Gerber is not the answer and treat his fragile ego so carefully.
Well. Surely he can't be TERRIBLE.
We coddle him like a child, hoping that giving him this chance will nurture his abilities and confidence, until our real goalie returns.
GAME
The game starts off with a nasty five-hole goal on Andrew Raycroft by Antoine Vermette. The crowd turns on Fake Rayzor. Toronto is cruel.
We are always waiting on Antoine Vermette, it seems, to be a little faster than he is, to score one more goal on one more shot, to stay on his feet just a little longer ... he has the make and build of Chris Kelly's penalty killing skills, with grinding ability, but it's those elusive hands that shows glimmers of promise that never seem to translate to something on the ice. He still has to reach the benchmark of 50, 60 points to be considered an offensive player.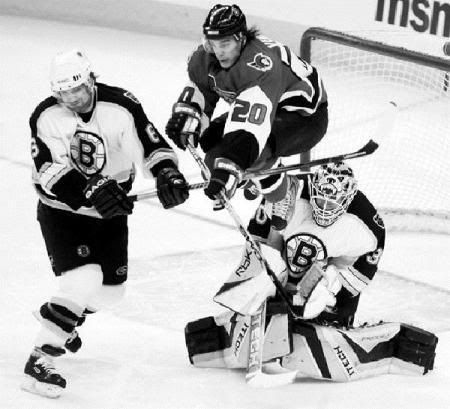 Let this be the season.
If Anaheim's taught us anything, it's that one crazy-good line is not enough.
We don't play well. Pierre McGuire enthusiastically praises Toronto's ability to make Ottawa dump the puck in, which apparently foils our entire game plan because we don't get the puck after dump-ins -- we just lose possession. The boys don't have any of the urgency to win battles --
I think we forget why this game matters.
I
don't remember why it matters. Where's Stanley? Why are we here? I don't remember. After three months of meaningful games, this is nothing.
According to the Toronto Star's preview of the season, the one thing that Leafs fans have to look forward to is that their team is "desperate." And they show it, droves of white and blue fore-checking and dumping and chasing and struggling harder, hoping that this will be a pattern for the next 81 games. They are rewarded with a nice Stajan goal that sails neatly away from Gerber's outstretched glove.
Suddenly, the possibility of losing this game occurs to me.
When you're watching with a room of full of the opposition's fans, you need to set a good example, especially when your team is down. It's not the time to despair or blame the refereeing or accuse them of cheating. However, it is the time to make snide remarks about how the regular season doesn't matter, how this is the way we started
last
season, and look how well that turned out.
Ha!
Wade Redden looks so anxious. He is now married after a storied bachelorhood, but it seems to have sharpened his aggression. He is hit nastily a couple of times, and unlike Wade of the Ice Water Veins, Wade of the Face Punching reacts violently. He strips his gloves eagerly and fights one player. Nary a period later, he peels them away again and fights another. The commentators note that he is tired of getting pushed around, and remind us of Anaheim. Maybe it
is
displaced aggression. As much as Redden's play was terrible, as much space as he takes up on our salary cap, as stoic as he is, I never doubted that he cared deeply about the team. And he finally acts out, with fists, maybe imagining that he's punching everyone who says that he will leave next season, that we have no room for him anymore.
Redden is not indifferent.
During the intermission, Glenn Healy finally admits it: "I know the Leafs, I know that locker room, I know how much I hate the Ottawa Senators …"
The entire room collapses in laughter.
In the third period, the Senators finally wake up. I guess Redden shows them that they still have something to play for -- pride, knowing that we can still induce fear in Leafs Nation with each goal. The breakouts become much crisper and our fore-check finally comes alive, and even though it's not the cleanest tactical hockey, it seems to weaken the Leafs resolve. And that's what
matters
.
The Leaf fans are quieter, their resolve that this is the
year
subdued into fits of anxiety. Generally, only the hardcore remain. The casual bandwagoner fan left about the time Ottawa made the Stanley Cup Finals, I think, but who knows -- if finally a playoff spring hits Toronto, maybe they'll all come back. Still, in this opening game, the fans are quiet, knowingly quiet. Alfredsson still elicits boos, but the girls around me have forgotten why Our Captain is so hated. Rounds of cheering will erupt after each goal the Leafs score, but nothing spontaneous.
Heatley scores the tying goal, with about 6 minutes left. A Leafs fan spits anger at the TV: "I told you stupid players to get the puck out of the fucking zone. I'm so angry! You better not lose!"
And Heatley bares his killer instinct for us to see.
And Heatley scores the winning goal.
There's no joy in Hogtown tonight.
Labels: antoine vermette, game review, toronto maple leafs, wade redden