There are many things in hockey that will displace an unwilling player from a team. Most of these things are never mentioned publicly, such as
extramarital affairs with a teammate's wife
. Scoring
a hurtful own goal
isn't necessarily one of things things, but in Toronto, the only appropriate response for Bryan McCabe was to sob uncontrollably and beg for forgiveness. Instead, he said stoically that these things pass .. that fans will forget ...
No Bryan, they won't. YouTube remembers everything.
Everything about this situation seems to be PR. The chances of McCabe being traded, due to his hefty contract, are fairly slim. The correct move for Bryan right now to do is call an emotional press conference, express his undying love for the Toronto Maple Leafs and Mats Sundin, and hope that the fans take it easy on him with the rain of "
Shoot
!."
However, I would like to thank Bryan McCabe for a source of endless amusement and another reason to laugh at the Leafs. It's a bottomless pit of fun ...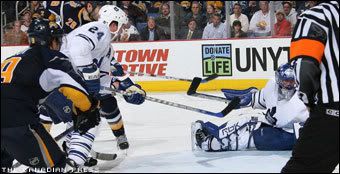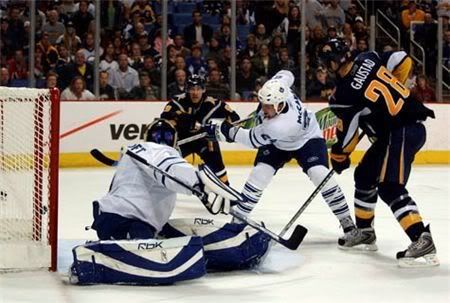 *
The NHL uploaded 2006-7 player profiles that are kind of cute. You can see
Wade Redden's
hometown of Lloydminster, SK (it's full of tractors). Half of this is an ad for his wakeboarding company.
Note
: Don't watch this if you have a slow connection. Even with my relatively fast connection, Redden's buffering, slow, slurred speech was like listening to somebody on an acid trip. (Metaphor only.)
Watch it well. It may be his (second) last.
The one with Jason Spezza
was done during Winterlude, with random scenes of strangers drinking hot chocolate, and old draft footage. You can really see the gel in Spezza's hair. There is also a disturbing scene of Spezza eating a beavertail ... "Ooh that is too good." No, Jason, no. You naughty boy.
I almost posted the Zdeno Chara one until I realized ... you know. He's gone.
*
On a weird parallel note, Tyler Donati,
who I last saw
play for the St. Michael's Majors, is now a Binghamton Senator.
Labels: bryan mccabe, jason spezza, wade redden