You know, when they said that Bochenski had "natural instincts" around the net, more than a few of us mocked him. What could that possibly mean? When Spezza feeds you the puck and the net is open, you put the puck in the net. Puck. Net. Basic, basic instinct. But after the Florida game, I can see where those comments are coming from. None of his goals were especially sexy, but a hat trick doesn't just appear out of nowhere.
A little confidence, an opportunity with players not named Spezza and Heatley, the looming threat of AHL buses and it seems our unappreciated lanky RWer is crying out for attention. Well, now you have it, Bo-Bear. B-Bo. Bo. We're going to have fun with this.
Chara's suspension, however hypocritical, is a blessing in diguise. Zdeno gets a nice break before our western swing, and we win anyway.
HEATER VS FLAMES
(sorry)
I'm absolutely psyched for the upcoming weekend. Friday night against the Canucks, Saturday night against the Flames. I don't know what the goaltending strategy is -- surely we're not going to play Hasek twice, even though he will have had 3 days rest. We've done that a couple of times, but not against teams the calibre of Vancouver and Calgary. Do we play Hasek against the more goal-prone Canucks and Emery against the defensive Flames? ...
I am the most excited about the Flames game. I've been nursing my grudge, hate and malcontent against the Flames for about a year now. So yes, this is a grudge match, and I can only hope that the players play each other, however unfamiliar they are, with the same emotion. (I haven't seen an exciting Flames game so far, so, here's a challenge.)
And there's that lovely Kelly Hrudey and Scott Oake with that demented little After Hours segment on which, if Jason Spezza is invited on wearing shorts like everyone else, I will laugh.
BEST POST EVER!
This whole Best Team Ever thing is hilarious
. By association, are we the Best Fans ever? No? You're no fun.
PS,
Elisha -- girl, there are other body parts to a man besides his mouth. We all know about his extraordinary oral talents. Maybe you could be the key in getting him to use those gifts for good, once in a while. By ... force if necessary.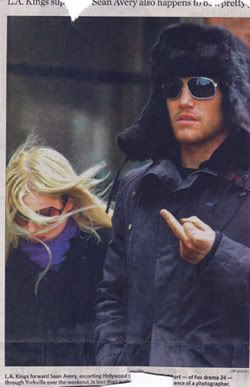 Labels: smut